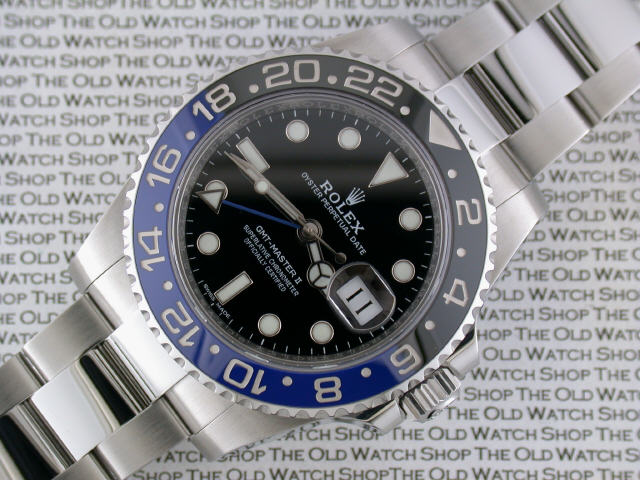 ROLEX: Gent's platinum / ceramic bezel stainless steel Rolex Oyster Perpetual Date GMT-Master II Chronometer bracelet watch, near-new! New "maxi-size" stainless steel case with engraved Rehaut ring and sapphire crystal glass, bi-directional rotating calibrated blue and black ceramic bezel with platinum 24 hour numerals, screw down "Triplock" winding crown, and screw case back, in very fine used condition. Gloss black "maxi" dial with the over-sized luminous white gold hour markers, white gold Mercedes pattern hands, and independantly-adjustable blue 24 hour pointer. Signed Rolex, Oyster Perpetual Date, GMT-Master II, Superlative Chronometer, Officially Certified, and Swiss Made. Self-winding Rolex automatic movement in perfect working order, and covered by the remainder of the Rolex five year international warranty. Fitted with the original stainless steel "polished centre-link" Rolex Oyster bracelet with the new locking deployant buckle with concealed "comfort link" extensor piece, in very fine used condition. Box: original Rolex presentation case, outer cardboard box Accessories: Rolex GMT-Master instruction booklet, green Chronometer seal, numbered hang tag, green wallet Documentation: original guarantee card dated February 2016 (UK supplied). Nick-named "The Batman" (or "Bruiser"!), the blue ceramic GMT-Master II is one of the hottest models in the current Rolex collection, with a lengthy waiting list for new watches! Model ref. 116710LN Case no. Random (Stock #24585) Status: On Hold
New In! 2010 Steel Rolex "Daytona" Cosmograph Bracelet Watch (Full-set Box & Papers)
---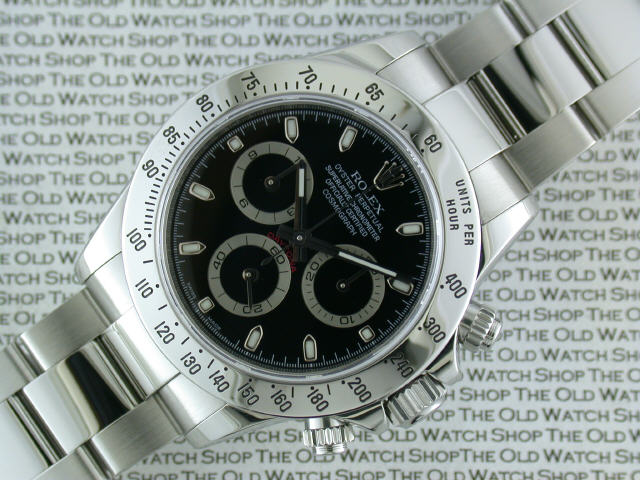 ROLEX: Stainless steel Rolex Oyster Perpetual Cosmograph Daytona Chronometer chronograph bracelet watch, circa 2010. Large stainless steel case with polished stainless steel calibrated tachymetre bezel, screw down chronograph pushers and winding crown, and screw case back, in very good used condition. Original gloss black dial with silver-ringed subsidiary dials at 3 (30 minute counter), 6 (ordinary seconds) and 9 (12 hour totaliser), signed Daytona in red above the bottom sub-dial, and with the new-style "fat" hands. Self-winding Rolex calibre 4130 automatic chronograph movement in very good working order. Fitted with the stainless steel Rolex Oyster solid link bracelet with deployant buckle with locking clasp and extendable "comfort link", in very good used condition. Box: complete with the Rolex presentation case and outer cardboard box Accessories: Rolex Cosmograph <!A HREF="rolpics/Dscn.jpg">booklet, red Chronometer seal Documentation: green Rolex wallet and original guarantee card dated September 2010 (UK supplied). Model ref. 116520 Case no. V876*** (New £7,950) Price: £7,150 (Stock #24565) Status: Available
---
Steel Rolex "Daytona" Cosmograph Bracelet Watch (Boxed)
---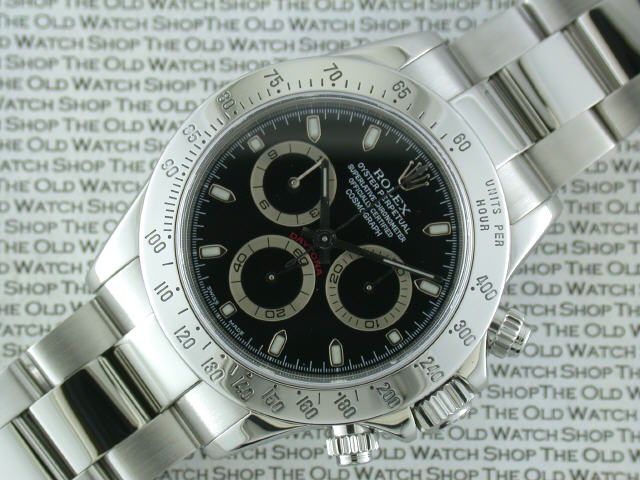 ROLEX: Stainless steel Rolex Oyster Perpetual Cosmograph Daytona Chronometer chronograph bracelet watch, circa 2001. Large stainless steel case with polished stainless steel calibrated tachymetre bezel, screw down chronograph pushers and winding crown, and screw case back, in very good used condition. Original gloss black dial with silver-ringed subsidiary dials at 3 (30 minute counter), 6 (ordinary seconds) and 9 (12 hour totaliser), signed Daytona in red above the bottom sub-dial, and with the new-style "fat" hands. Self-winding Rolex calibre 4130 automatic chronograph movement in very good working order. Fitted with the stainless steel Rolex Oyster solid link bracelet with deployant buckle with locking clasp and extendable "comfort link", in very good used condition. Box: complete with the Rolex presentation case and outer cardboard box Accessories: Rolex Cosmograph booklet, red Chronometer seal, and green card wallet and calendar card. The original guarantee is not present. Model ref. 116520 Case no. K252*** (New £7,950) Price: £6,750 (Stock #24200) Status: Available
---
New In! Mid-Size Rolex Rolesium Yacht-Master Bracelet Watch (Boxed)
---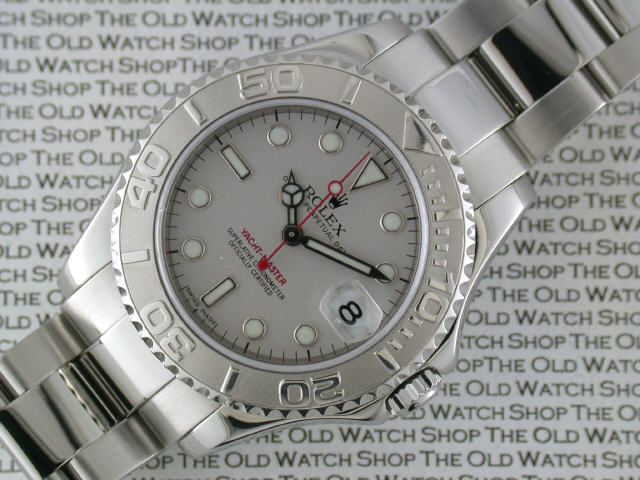 ROLEX: Mid-size "Rolesium" platinum and stainless steel Rolex Oyster Perpetual Date Yacht-Master Chronometer bracelet watch, circa 2002. Mid-size polished stainless steel case with calibrated rotatable platinum bezel, sapphire crystal, and screw down Rolex winding crown, in very good used condition. Original platinum dial with luminous hour markers, and matching luminous Mercedes pattern hands. Self-winding Rolex automatic movement in very good working order. Fitted with the original stainless steel Rolex Oysterlock bracelet with locking deployant buckle, in very good used condition. Box: supplied with the Rolex presentation case, outer cardboard box Accessories: Rolex Yacht-master and Your Rolex Oyster booklets, red Chronometer seal, green Rolex wallet and calendar card. The original guarantee is not present. Model ref. 168622 Case no. Y138*** (New £7,100) Price: £3,350 (Stock #24580) Status: Available
---
18ct Gold & Steel Rolex Datejust Diamond Dial Jubilee Bracelet Watch (Boxed)
---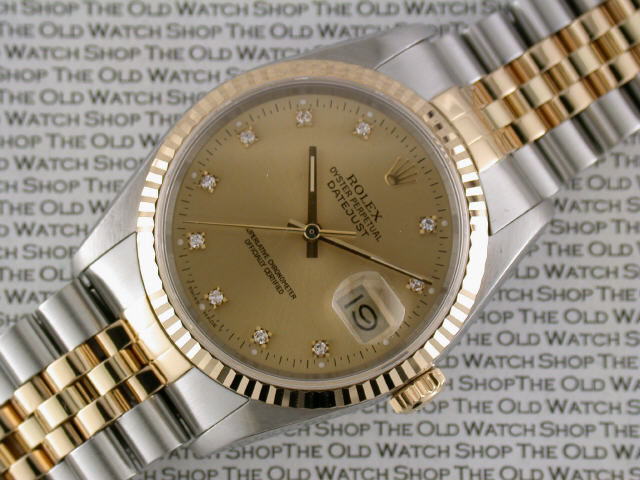 ROLEX: Gentleman's diamond-set 18ct gold and stainless steel Rolex Oyster Perpetual Datejust Chronometer bracelet watch, circa early 1990's. Stainless steel case (36mms) with fluted 18ct yellow gold bezel, scratch-resistant sapphire crystal glass, gold screw down Rolex Twinlock winding crown, and screw case back, in fine used condition. Quick set date model. Original brushed champagne dial with diamond-set hour markers, date window at 3, and gold baton hands. Signed Rolex, Oyster Perpetual, Datejust, Superlative Chronometer Officially Certified, and T Swiss Made T. Self-winding Rolex automatic movement in perfect working order. Fitted with the original 18ct gold and stainless steel Rolex Jubilee bracelet with the folding deployant buckle in very fine used condition. Box: green Rolex presentation case and outer cardboard box Accessories: Rolex Datejust and Your Rolex Oyster instruction booklets, red Chronometer seal, leather wallet and calendar card. The original certificate is not present. Model ref. 16233 Case no. X419*** (New equiv. £8,600) Price: £3,450 (Stock #23790) Status: Available
---
Gold & Steel Rolex Datejust Jubilee Bracelet Watch
---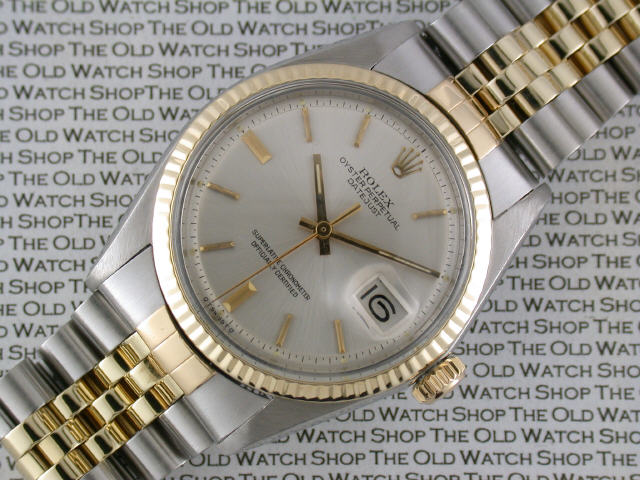 ROLEX: Gentleman's gold and stainless steel Rolex Oyster Perpetual Datejust Chronometer bracelet watch, circa 1973. Stainless steel case (36mms) with fluted yellow gold bezel, acrylic plexi-crystal, gold screw down Rolex Twinlock winding crown, and screw case back, in very good used condition. Original brushed silver "sigma" dial with applied solid gold baton hour markers, date window at 3, and gold baton hands. Signed Rolex, Oyster Perpetual, Datejust, Superlative Chronometer Officially Certified, and QT Swiss Made TQ. Self-winding Rolex automatic movement in very good working order. Fitted with the 14k gold and stainless steel Rolex Jubilee bracelet with the folding deployant buckle in very good used condition. Box: supplied in our green presentation case and outer cardboard box Accessories: Rolex Datejust and Your Rolex Oyster instruction booklets, red Chronometer seal, and leather wallet. The original certificate is not present. Model ref. 1601 Case no. 3537*** (New equiv. £7,250) Price: £2,150 (Stock #24370) Status: Available
---
Lady's Gold and Steel Rolex Oyster Perpetual Datejust Chronometer Jubilee Bracelet Watch (Full-set Box & Papers)
---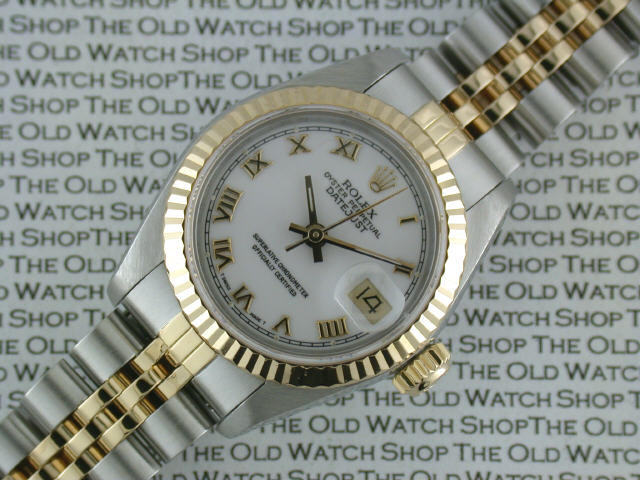 ROLEX: Lady's 18ct gold and stainless steel Rolex Oyster Perpetual Datejust Chronometer bracelet watch, circa 1989. Stainless steel case with fluted 18ct gold bezel, gold screw down Twinlock winding crown, and screw case back, in very good used condition. Original marbled porcelain white dial with applied gold Roman numeral hour markers, outer black minute track, date window at 3, and matching gold baton hands. Signed Rolex, Oyster Perpetual, Datejust, Superlative Chronometer, Officially Certified, and T-Swiss Made-T. Self-winding Rolex automatic mechanism, recently serviced by an independant expert watchmaker, and in very good working order. Fitted with the original 18ct gold and stainless steel Rolex Jubilee bracelet, in very good used condition. Box: complete with the original Rolex presentation case and outer cardboard box Accessories: Rolex Datejust and Your Rolex Oyster instruction booklets, red Chronometer seal Documentation: red leather wallet with original guarantee certificate dated 1989 (UK supplied). Model ref. 69173 Case no. R640*** Price: £2,450 (Stock #24350) Status: Available
---
Lady's Rolex Oyster Perpetual Bracelet Watch
---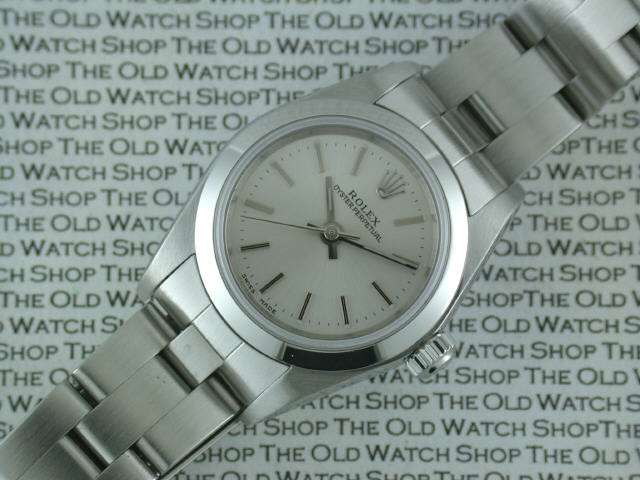 ROLEX: Lady's stainless steel Rolex Oyster Perpetual bracelet watch, circa 2002. Stainless steel case with the polished stainless steel bezel, screw down Rolex Twinlock winding crown, screw case back, and scratch-resistant sapphire crystal glass, in very fine used condition. Original brushed silver dial with applied white gold baton hour markers, and polished white gold baton hands. Signed Rolex, Oyster Perpetual, and Swiss Made. Self-winding Rolex automatic movement in perfect working order. Fitted with the original stainless steel Rolex Oyster bracelet with the folding deployant buckle in fine used condition. Box: supplied in our rolex-style presentation case and outer cardboard Accesories: Your Rolex Oyster booklet. The original guarantee is not present. Model ref. 76080 Case no. Y625*** (New equivalent £3,250) Price: £1,595 (Stock #24190) Status: Available
---
Rolex Oyster Perpetual Date Chronometer Bracelet Watch
---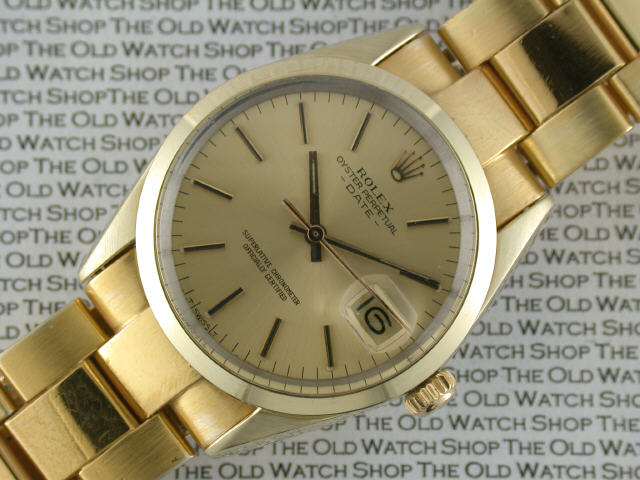 ROLEX: Gent's gold over steel Rolex Oyster Perpetual Date Chronometer bracelet watch, circa 1978. Yellow gold capped case with polished bezel, screw down gold Rolex winding crown, and stainless steel screw case back, in very good used condition. Original champagne dial with applied gold baton hour markers and matching gold baton hands and centre seconds hand. Signed Rolex, Oyster Perpetual, Date, Superlative Chronometer, Officially Certified, and T Swiss T. Nickel plated Rolex automatic movement in very good working order. Fitted with the rolled gold Rolex Oyster solid-link <!A HREF="rolpics/Dscn.jpg">bracelet in good usable condition. The bracelet does show some loss of plating, and some blistering inside the back of some links (image). Box: supplied in our rolex-style presentation box and outer cardboard box Accessories: Your Rolex Oyster instruction booklet, green leather wallet, red Chronometer seal. The original guarantee is not present. Model ref. 1550 Case no. 5490*** Price: £1,595 (Stock #24375) Status: Available
---
Tudor Black Shield "Fast Rider" Chronograph Watch (Full-set Box & Docs.)
---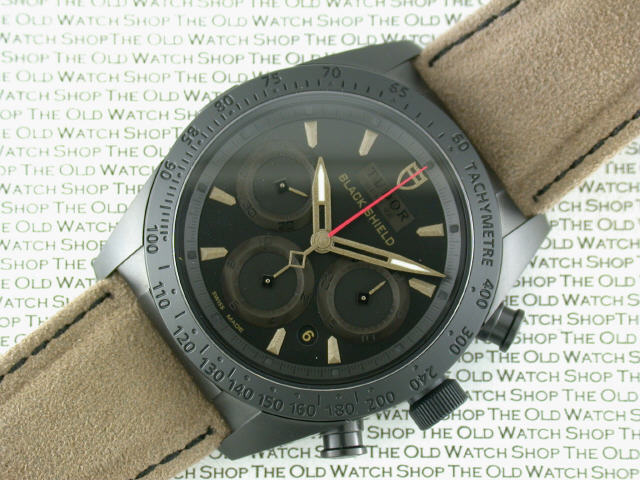 TUDOR: Ceramic Tudor Black Shield "Fast Rider" automatic calendar chonograph watch, recent. Matt black ceramic case with calibrated tachymetre bezel, flat sapphire crystal, screw down PVD steel winding crown and pumper chronograph pushers, case side with quick-set date pusher, and screw case back, in fine used condition. Black "stealth" dial with raised "bronze" sub-dials at 3, 6, and 9 (30 minute counter, hour totaliser, and ordinary running seconds, repectively), and calendar window at 4:30, signed Tudor Geneve, Black Shield, and Swiss Made. "Frosted gold" hands and hour markers. Self-winding Tudor automatic mechanism in perfect working order and covered by the remainder of the manufacturer's two year warranty. Fitted with the original cashmere alcatantara Tudor strap with PVD steel deployant buckle. Box: supplied in the original Tudor lacquered presentation case and outer card case Accessories: Tudor Black Shield instruction booklet, red Tudor date change "key", numbered hang tag Documentation: red Tudor wallet with the original guarantee card dated November 2014. Model ref. 42000CN Case no. I1331*** (New Price £3,370) Price: £2,250 (Stock #24015) Status: Available
---
1940's Tudor Oyster Mechanical Strap Watch
---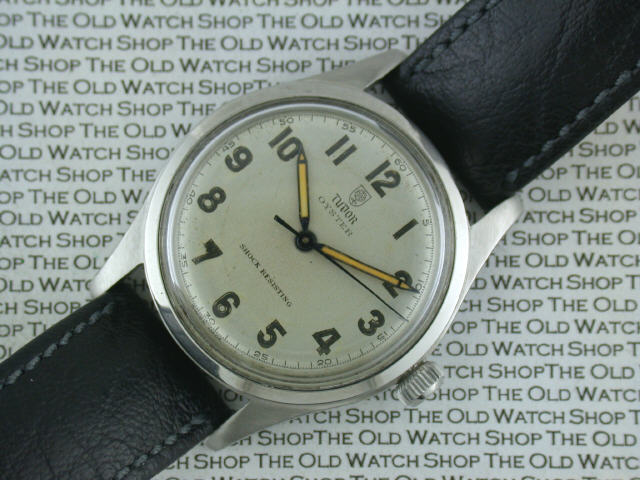 ROLEX-TUDOR: Gentleman's stainless steel Oyster "Small Rose" jewel lever manual wind strap watch, circa 1940's. Stainless steel case (34mms) with polished bezel, screw down "Oyster Patent" winding crown, and screw case back, in very good used condition. Original silvered dial with old redium luminous arabic numeral hour markers, outer minute track, signed Tudor (with the small Tudor rose) Oyster, Shock-Resisting, and Swiss Made. Blued steel "pencil" hands and blued steel centre seconds hand. Nickel plated manual wind Tudor jewel lever mechanism, recently serviced and in very good working order (time-keeping is reasonable for a seventy year old watch!). Fitted with a Hirsch padded black leather strap. Box: supplied in our presentation case and outer cardboard box. The original guarantee is not present. Case no. 365*** Price: £495 (Stock #24420) Status: Available
---
Tudor Oyster Prince Automatic Date Bracelet Watch
---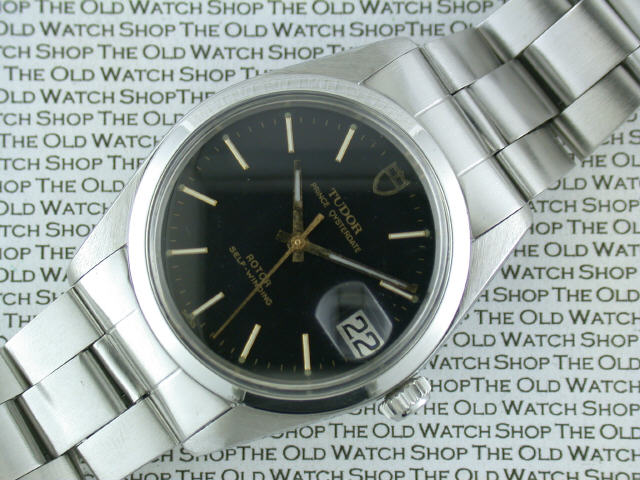 ROLEX-TUDOR: Gentleman's stainless steel Tudor Prince Oysterdate automatic calendar bracelet watch, circa 1980's. Stainless steel case (34mms) with polished steel bezel, acrylic crystal, screw down Rolex Twinlock winding crown, and screw <!A HREF="rolpics/Dscn.jpg">case back with the Original Rolex Oyster Case signature, in very good used condition. Matte black dial with applied gold baton hour markers, with date window at 3, and gold baton hands. Signed Tudor, Prince Oysterdate, Rotor, Self-Winding, and Swiss. Self-winding Tudor automatic mechanism, recently serviced by our independant expert watchmaker, and in very good working order. Fitted with the original stainless steel folded link Rolex-Tudor Oyster bracelet, in very good used condition but with some minor creasing to some centre links. Box: supplied in our presentation case and outer cardboard box. The original certificate is not present. Model ref. 74000 Case no. 458** (Stock #24415) Status: On Hold
---
Antique & Vintage Rolex Watches
---
1950's Gold Rolex-Tudor Royal Strap Watch
---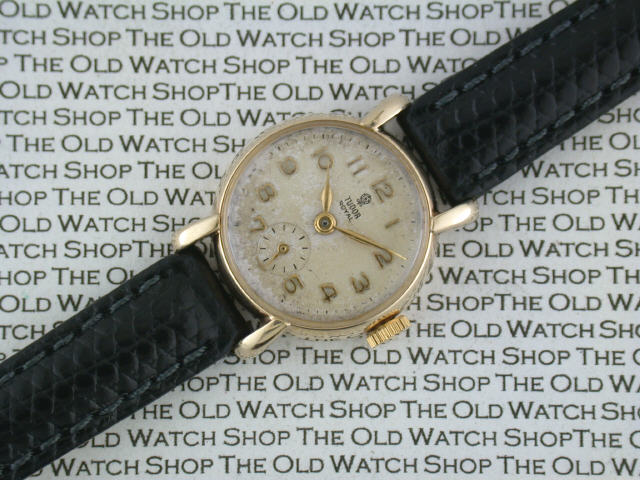 ROLEX-TUDOR: Lady's 9ct gold Tudor Royal manual wind watch, circa 1950's. Circular 9ct gold case with polished case front, gilt winding crown, teardrop lugs with fixed strap bars, and snap-on case back, in very good used condition. Off-white dial (light ageing) with raised gilt Arabic numeral hour markers, subsidiary seconds display, gold leaf hands, signed Tudor, Royal. Nickel plated Tudor jewel manual wind movement, recently serviced and in good working order. Fitted with a new Hirsch black lizard grain strap. Box: supplied in our presentation case and card sleeve. The original guarantee is not present. Price: £295 (Stock #23910) Status: Available
---
1950's Gold Rolex Cocktail Watch
---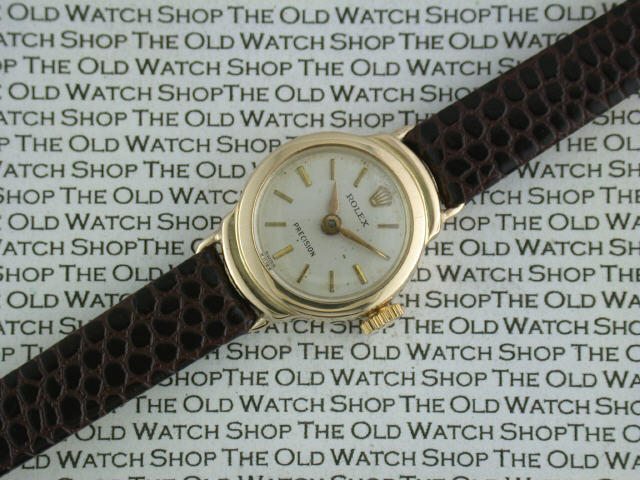 ROLEX: Lady's 9ct gold Rolex Precision manual wind cocktail watch, circa 1950's. Lozenge-shaped 9ct gold case with polished case front, gilt winding crown, concealed wire strap bars, and snap-on case back, in very good used condition. Silvered dial with applied gold baton hour markers, gold dagger hands, signed Rolex, Precision, and Swiss Made. Nickel plated Rolex jewel manual wind movement, recently serviced and in good working order. Fitted with a new Hirsch brown lizard grain strap. Box: supplied in our presentation case and card sleeve. The original guarantee is not present. Price: £395 (Stock #23915) Status: Available
---
Please note! We only sell completely genuine and authentic branded watches!! Our prices are fixed - requests for discount or our "best price" will be ignored...
Click Here to see our Archive of Recently Sold Rolex Watches . . .
We have new stock arriving daily! Please 'phone or visit our shop in Southport for more details...
---
The Old Watch Shop 2016 ©